HONG KONG, 7 September 2017 – Reflecting the increasingly important role that innovation plays in the jewellery and gemstone industry, JNA Awards 2017 is paying tribute to a record number of companies that have successfully melded technology and creativity to deploy game-changing processes into their operations.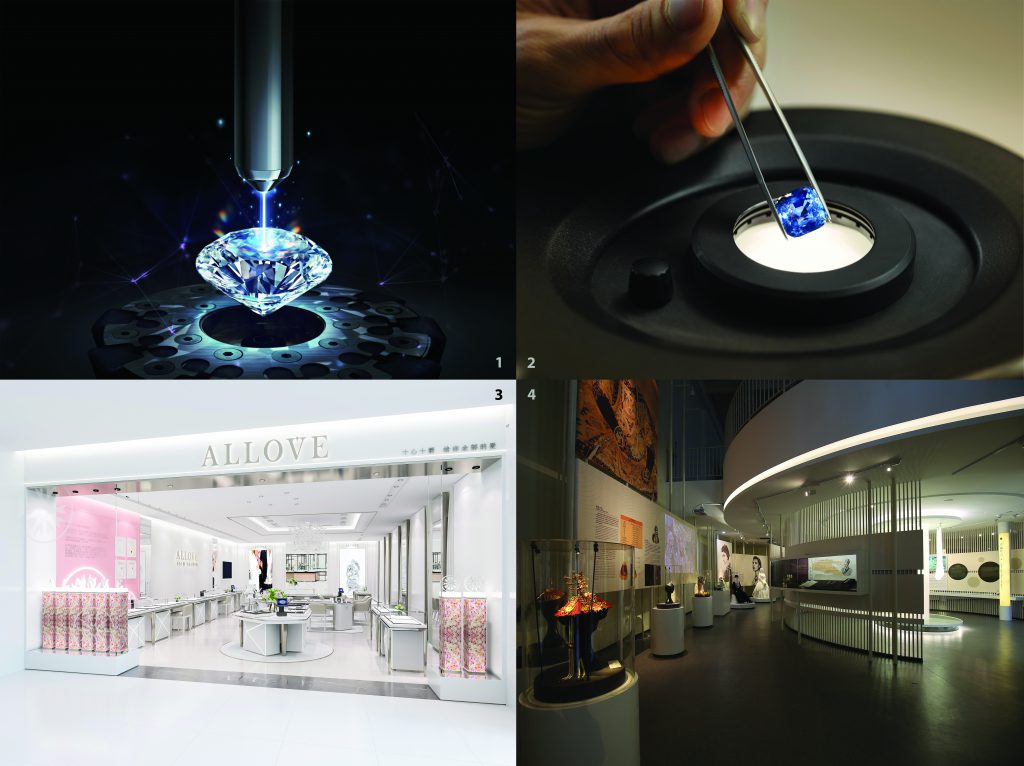 The JNA Awards is one of the most rigorous and prestigious international awards programmes, which aims to promote and uphold excellence in innovation, creativity, leadership, sustainability and best business practices with a focus on initiatives that have a positive impact on Asia's jewellery and gemstone sector. The Award recipients and honourees will be feted at a gala celebration on Thursday, 14 September, at the InterContinental Hong Kong.
The Industry Innovation of the Year category has the most number of finalists this year with eight, namely 3D Jewellery Co Ltd, Chow Tai Fook Jewellery Group Ltd, Gübelin Gem Lab Ltd, Shenzhen Lingchengben Technology Co Ltd, Shenzhen Perfect Love Diamond Co Ltd, Shenzhen Sunfeel Jewelry Co Ltd, Voguegold Jewellery and Zhejiang Angeperle Co Ltd.
"Innovation remains at the forefront of the jewellery industry as companies rethink their long-term strategies to get ahead and stay relevant. The impact of innovation is evident in various aspects of their businesses, including production, marketing, supply chain management, gem and metal technologies, product development and business strategies," explained Letitia Chow, Chairperson of the JNA Awards, Founder of JNA, and Director of Business Development – Jewellery Group at UBM Asia.
For the first time in its six-year history, the JNA Awards is presenting the Lifetime Achievement Award to two exemplary leaders – Firmin Robert Wan of Tahiti and Jacques Pol Branellec of Jewelmer from the Philippines.
"They are visionaries who are passionate about what they do, and who constantly challenge themselves to tread unknown paths in pursuit of their dreams. They overcame natural and man-made obstacles, both the expected and unexpected," Chow said. "Through sheer drive and determination, Mr. Wan and Mr. Branellec have succeeded in accomplishing groundbreaking developments in the cultivation of Tahitian pearls and golden South Sea pearls, respectively.  While growing their enterprises into branded and thriving businesses, they have also transformed how these beautiful natural gems are perceived, admired and treasured by the world."
This year's independent judging panel consists of industry experts Albert Cheng, advisor to the World Gold Council, Far East; James Courage, former chief executive of Platinum Guild International and former chairman of the Responsible Jewellery Council; Lin Qiang, president and managing director of the Shanghai Diamond Exchange (SDE); Nirupa Bhatt, managing director of the Gemological Institute of America in India and the Middle East; Yasukazu Suwa, chairman of Suwa & Son, Inc of Japan; and Mark Lee, research director of the Hong Kong-based Asia Pacific Institute for Strategy.
The JNA Awards is supported by Headline Partners Chow Tai Fook and SDE, together with Honoured Partners KGK Group, Rio Tinto, Guangdong Gems & Jade Exchange, and Guangdong Land Holdings Ltd.
The much-anticipated awards ceremony and gala dinner is a ticketed event by application only. Interested parties can book their seats now by submitting an online application form.
Here is the full list of the individuals and companies that have been shortlisted as Honourees for JNA Awards 2017:
Brand of the Year – Retail
Goldendew Co Ltd – South Korea
Jewel Corner – Soft Touch Jewellers LLC – United Arab Emirates
Shenzhen Ideal Jewellery Co Ltd – China
Tanaka Kikinzoku Jewelry K K – Japan
Industry Innovation of the Year
3D Jewellery Company Ltd – China
Chow Tai Fook Jewellery Group Ltd – Hong Kong
Gübelin Gem Lab Ltd – Switzerland
Shenzhen Lingchengben Technology Co Ltd – China
Shenzhen Perfect Love Diamond Co Ltd – China
Shenzhen Sunfeel Jewelry Co Ltd – China
Voguegold Jewellery – China
Zhejiang Angeperle Co Ltd – China
Manufacturer of the Year – Jewellery
KGK Group – Hong Kong
Shenzhen Foreway Group Co Ltd – China
Shenzhen Ganlu Jewelry Co Ltd – China
Shenzhen Gemhorn Jewelry Co Ltd – China
Outstanding Enterprise of the Year – ASEAN
China Stone Co Ltd – Thailand
Phu Nhuan Jewelry Joint Stock Company – Vietnam
Tomei Consolidated Berhad – Malaysia
Outstanding Enterprise of the Year – Greater China
Dongguan Gold Dragon Jewelry Co Ltd – China
Hiersun – China
Shenzhen Ideal Jewellery Co Ltd – China
Shenzhen Xingguangda Jewelry Industrial Co Ltd – China
Zhejiang Angeperle Co Ltd – China
Outstanding Enterprise of the Year – India
KGK Diajewels India Pvt Ltd – India
Kiran Gems Pvt Ltd – India
RMC Gems India Ltd – India
Retailer of the Year (450 outlets and below)
Kashi Jewellers – India
Phu Nhuan Jewelry Joint Stock Company – Vietnam
SK Jewellery Pte Ltd – Singapore
Tomei Consolidated Berhad – Malaysia
eSupplier of the Year
Kela – China
Kiran Gems Pvt Ltd – India
Shree Ramkrishna Exports Pvt Ltd – India
Sustainability Initiative of the Year
J Hunter Pearls Fiji (Ltd) – Fiji
KGK Diajewels India Pvt Ltd – India
PANDORA PRODUCTION CO LTD – Thailand
Young Entrepreneur of the Year (Age 40 and below)
Chau Tsankwan, Shenzhen Batar Investment Holding Group Co Ltd – China
Qi Xiao Man, Zhejiang Angeperle Co Ltd – China
Rihen Mehta, 7Cs Group – United Arab Emirates 
Zhang Guo Tao, Shenzhen Darry Jewelry Co Ltd – China