Hong Kong jewellers Chow Tai Fook and Lukfook shortlisted for JNA's "Retailer of the Year" award
HONG KONG, 19 August, 2013 – Two Hong Kong-based jewellery retailers have been shortlisted for the "Retailer of the Year" award at the second edition of the JNA Awards, the most prestigious awards event in the jewellery and gemstone industry.
Chow Tai Fook Jewellery Co Ltd (http://www.chowtaifook.com/) and Luk Fook Holdings (International) Ltd (http://www.lukfook.com/) were named Honourees in the category. The award's second edition drew an impressive number of entries this year, according to JNA (Jewellery News Asia), the awards organizer.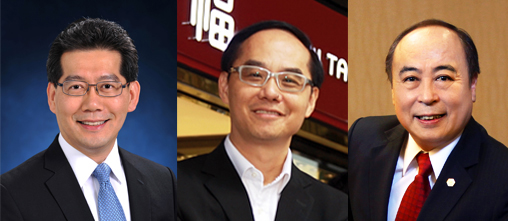 "This year, we received an exceptionally high number of entries for the 'Retailer of the Year' category, and it is remarkable that the two shortlisted companies are from Hong Kong. This signifies Hong Kong's importance not only in the jewellery and gemstone trade but also in retail," said Letitia Chow, Founder of JNA and Chair of the JNA Awards 2013 judging panel. "We congratulate Chow Tai Fook and Lukfook for raising industry standards for excellence in retail. Their quality products and world-class business practices will have a positive impact on the long-term development of the global jewellery retail sector."
Gregory So, Secretary for Commerce and Economic Development of the Government of HKSAR, said, "Hong Kong is Asia's leading jewellery manufacturer and distribution centre. Our jewellery products are renowned for their excellent quality, stylish design, broad varieties and reasonable price. With the persistent efforts of our trade, we are honoured that our products gain great popularity from customers worldwide and are well-recognised in the global market."
Kent Wong, Managing Director of Chow Tai Fook Jewellery Group Ltd, said, "The award further underscores Chow Tai Fook's market leadership in jewellery retail."
The 84-year-old company has an extensive retail network of more than 1,830 points of sale in Mainland China, Hong Kong, Macau, Singapore and Malaysia. It also has a growing presence in e-Commerce.
"We continue to raise our brand visibility in the high-end luxury jewellery market by introducing one-of-a-kind jewellery pieces. We don't only showcase Chow Tai Fook's sophisticated designs and exceptional craftsmanship, but we also represent our local peers in the world stage as a leading jeweller in Greater China," the company managing director said.
Commenting on Lukfook being recognised as a finalist in the "Retailer of the Year" category, Wong Wai Sheung, Chairman and Chief Executive of Lukfook Group, said, "Lukfook was conferred with the coveted 'Retailer of the Year' award at the inaugural JNA Awards. It is a great achievement to be honoured once again."
Founded in 1991, Lukfook Group is one of the leading jewellery retailers in Hong Kong and Mainland China. It has a retail network of more than 1,100 shops in Mainland China, Hong Kong, Macau, Singapore, the US and Canada.
"Lukfook is committed to maintaining the right balance between a diverse product selection and high product quality. Our emphasis on product selection, stringent quality assurance and after-sales services differentiates us from other brands. We will continue to uphold a high standard of excellence in what we do," the Lukfook chairman continued.
This year's judging panel is comprised of five industry experts namely Albert Cheng, managing director of the World Gold Council – Far East (WGC); James Courage, chief executive of Platinum Guild International (PGI); Lin Qiang, president and managing director of the Shanghai Diamond Exchange (SDE); Nirupa Bhatt, managing director of the Gemological Institute of America (GIA) in India and the Middle East; and Vichian Veerasaksri, director of the World Jewellery Confederation (Cibjo) and advisor to the Thai Gem and Jewelry Traders Association (TGJTA).
The Award Recipients and Honourees will be feted at an awards ceremony and gala dinner scheduled for 12 September at The Grand Hyatt, Hong Kong. The event will be held on the sidelines of the September Hong Kong Jewellery & Gem Fair, which will run from 11 to 17 September.
The JNA Awards is an industry-wide event that honours and recognises excellence and achievement in the global jewellery trade with a focus on companies and individuals that have made significant contributions to the Asian gemstone and jewellery trade. The awards ceremony and gala dinner is a ticketed event by application only. Interested parties may submit their request by logging on to www.JNAawards.com.