Inaugural JNA Awards
A Tremendous Success
HONG KONG, 24 September, 2012 – The awards recipients for the 10 categories of the inaugural JNA Awards were announced last week to an audience of over 450 guests from the international gemstone and jewellery industry at The Ritz-Carlton, Hong Kong. Acclaimed by all present as a tremendous success, the JNA Awards is expected to become a not-to-be-missed event in the industry's calendar.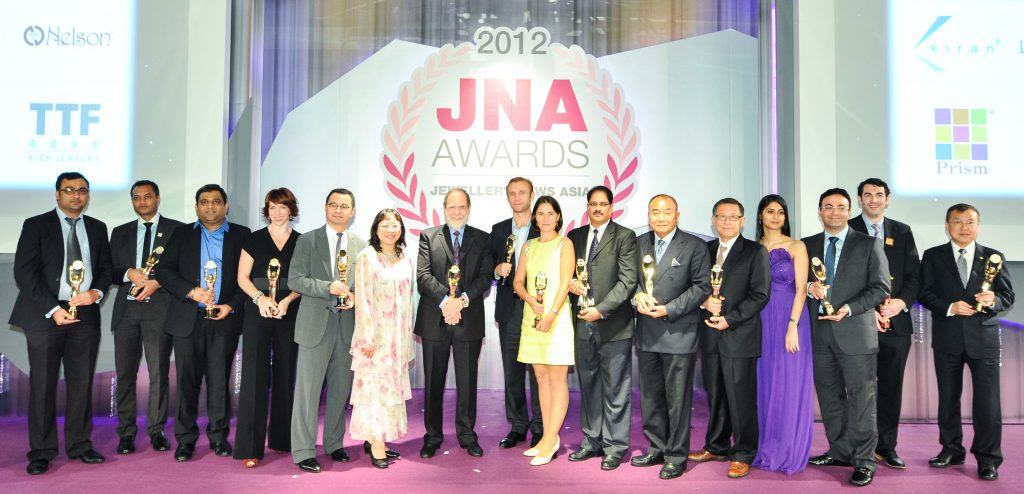 Major players of the industry who attended included Nicky Oppenheimer, Former Chairman of the De Beers Group; Philippe Mellier, CEO of the De Beers Group, Varda Shine, CEO of the Diamond Trading Company;  Kent Wong, Managing Director, Chow Tai Fook Jewellery Group Limited; Bruce Cox, Managing Director Rio Tinto – Diamonds, Jean-Marc Lieberherr, Chief Commercial Officer – Diamonds, Rio Tinto Diamonds; Ramesh Virani, Managing Director, KARP Group; Robert Wan, Founder and Chairman, Robert Wan Tahiti; Lin Qiang, President and Managing Director, Shanghai Diamond Exchange; and Moti Ganz, Chairman, The Israel Diamond Institute Group of Companies (IDI).
Key personalities also included John Botts, former chairman of UBM plc and Jimé Essink, President & CEO, UBM Asia Ltd; Wolfram Diener, Senior Vice President, UBM Asia Ltd.
Recipients of the JNA Awards 2012:
–   Lifetime Achievement Award
 
Nicky Oppenheimer
Nicky Oppenheimer, former Chairman of the De Beers Group, is awarded JNA's highest accolade for his outstanding contribution to the world diamond industry over the course of a career that spans 44 years. The third generation of the Oppenheimers to lead De Beers, Nicky Oppenheimer has added his own, distinguished contribution to a family legend that dates back to 1902 when his grandfather, Sir Ernest Oppenheimer, arrived in Kimberley to work as a diamond buying agent. Nicky Oppenheimer presided over important changes in the history of the De Beers Group. Under his leadership, De Beers opened up new markets for diamond jewellery in China and India, and established the De Beers' Best Practice Principles (BPPs), a standard of ethical business behaviour that has set the benchmark for other global industries.
–   3 Decades of Excellence 

 

Chow Tai Fook Jewellery Co Ltd
Chow Tai Fook Jewellery Co Ltd, the world's largest jewellery retailer by market value, since its founding decades ago, continues to raise the bar of excellence and creativity in the gemstone and jewellery industry. Embracing the enduring principles of "sincerity" and "eternity," Chow Tai Fook puts integrity at the centre of its business operations. The Hong Kong-listed company has an extensive retail network, with more than 1,600 points-of-sale in Greater China, Malaysia and Singapore.
–   Brand of the Year       

 

Chow Tai Fook Jewellery Co Ltd
With its immense reach and presence in the Greater China market, Chow Tai Fook Jewellery Co Ltd has always been viewed as a trendsetter in the industry. Its unwavering commitment to quality and service excellence has made it one of the most iconic brands in Greater China.
–   Employer of the Year

 

Dharmanandan Diamonds Pvt Ltd
More than 30 years since its founding, Dharmanandan Diamonds Pvt Ltd continues to demonstrate the same heartfelt passion and commitment that it has for a business that celebrates enduring love and romance. The diamond manufacturer has not lost sight of the core corporate values upon which Dharmanandan was built, and these are excellence in innovation, manufacturing and talent management. By connecting with its employees and keeping them engaged, the India-based diamond manufacturer is able to clearly communicate the group's vision and goals with its staff.
–   Industry Innovation of the Year – Manufacturing

 

TTF High Jewellery
Since its establishment in September 2002, Shenzhen-based TTF High Jewellery has been consistently producing jewellery pieces of outstanding design and craftsmanship. Its collections are showcased internationally and have received great acclaim across the industry. TTF has mastered many high-level techniques in jewellery making, including K-gold production, which gives gold lasting colour and shine. Known for its "think-outside-the-box" approach to manufacturing and marketing, TTF is always on the lookout for fresh, bold and creative solutions to existing and novel challenges
–   Industry Innovation of the Year – Retail  

 

Plukka (HK) Ltd
Leveraging the power of social media and online marketing, Plukka (HK) Ltd is changing the dynamics of jewellery trade and manufacturing. Launched less than a year ago by partners Jai Waney and Joanne Ooi, the Hong Kong-based e-Retailer is bringing the concept of group buying to a larger audience.
–   Manufacturer of the Year       

 

Pranda Group 
Thailand-based Pranda Group prides itself on being a leading supplier of high-quality jewellery to some of the world's most recognisable retail brands, while offering its own branded jewellery products. With a 4,000-strong workforce in seven manufacturing facilities, Pranda Group is a force to reckon with, producing more than 10,000 new designs and over 8 million pieces annually.
–   Retailer of the Year            

 

Luk Fook Holdings (International) Ltd
One of Hong Kong's most successful home-grown brands, Lukfook is recognised globally for its achievements in the jewellery industry. Operating more than 920 retail outlets worldwide, more than 870 of which are in China, Lukfook uses innovative technology to increase operational efficiency, reduce costs and enhance the customer experience.
–   Sustainability Initiative of the Year

 

Jewelmer International Corporation
Renowned for its golden South Sea cultured pearls, Jewelmer International Corporation champions sustainable development in its operations and projects. Based in the Philippines, it adopts the most ecologically friendly practices in its pearl farms in Palawan. Jewelmer's Save Palawan Seas Foundation also provides coastal communities with livelihood alternatives to destructive fishing practices, among others.
–   Young Leader of the Year (Age 30 or below)

 

Chris Benham (The Inspired Collection)
Chris Benham, co-founder of The Inspired Collection, has led the New Zealand-based company into winning several domestic and international jewellery design awards over a span of just three years. Known for its fresh, innovative approach to diamond jewellery design, The Inspired Collection has also won major design contracts with highly respected companies, including Hiersun, a retailer with more than 200 bridal jewellery shops in China.
The following companies have been selected as honourees of the inaugural JNA Awards 2012, Wonder of the World category:
–   Vitalit, Thailand, two entries
– Vivid Orange Natural Mandarin Garnet in finest cut cushion shape or Natural Spessartite (-Garnet)
– Pinkish Red Spinel of Pamir Mountains origin

–   Makhni Enterprises, Thailand, one entry 
– A pair of 8 carats rare unheated ruby
Letitia Chow, founder of JNA and director of Business Development – Jewellery Group at UBM Asia, and the Chair of the JNA Awards judging panel, said: "The success of the inaugural JNA Awards ceremony and gala dinner has been tremendous. I am proud to announce that we have achieved our main goal to provide the industry with a benchmark for excellence and achievement. I would like to thank you all that helped us to make it possible. We are looking forward to the same success at the JNA Awards 2013."
Kent Wong, Managing Director of Chow Tai Fook Jewellery Group Limited said: "When we signed the JNA Awards partnership agreement months ago, we knew that it would be a great success. Last night's event surpassed our expectations. It was of course an entertaining evening but was also an excellent opportunity for many key people of our industry to network. I would like to take this opportunity to congratulate the Honourees and Recipients who brought excellence to the awards."
Jean-Marc Lieberherr, Chief Commercial Officer – Diamonds, Rio Tinto Diamonds said: "Rio Tinto congratulates the organisers of the inaugural JNA Awards which culminated in a wonderful event. We are extremely proud to be able to contribute to the development of innovation and new opportunities in this industry, particularly in the Chinese jewellery market. We congratulate all the honourees and recipients and look forward to a long association with this important event."
The entertainment for the evening started with a colourful and vibrant Bollywood performance by
Xin Wang Prestige. Later, there was a performance by world-renowned tenor Warren Mok accompanied by young American soprano Corinne Winters, which drew enthusiastic applause.
The JNA Awards 2012 featured Rio Tinto and Chow Tai Fook as Headline Partners, with Israel Diamond Institute, Shanghai Diamond Exchange, Robert Wan Tahiti and the KARP Group as Honoured Partners.
For more information regarding the JNA Awards 2012 please go to www.jnaawards.com.
About the JNA Awards
The JNA Awards is an industry-wide event that honours and recognises excellence and achievement in the jewellery trade. The inaugural Awards ceremony and gala dinner has been held on September 20, 2012, during the September Hong Kong Jewellery & Gem Fair, at The Ritz-Carlton, Hong Kong.
The event, the first of its kind in Asia was organised by Jewellery News Asia (http://www.jewellerynewsasia.com/) of UBM Asia in collaboration with UBM Awards.
Jewellery News Asia, first published in 1983, is the flagship magazine of UBM Asia's (www.ubmasia.com) Jewellery Group. The publication is a leader in providing the latest industry updates and in-depth reports, covering the international jewellery trade with an Asian insight. Following its success, the publication launched its online edition, www.jewellerynewsasia.com in June 2011.