HONG KONG, 18 September 2018 –The seventh annual JNA Awards, one of the most prestigious award programmes in the international jewellery and gemstone industry, has been declared a spectacular success. The glittering gala event, which honoured industry forerunners and groundbreakers, was held during the September Hong Kong Jewellery & Gem Fair Hong Kong on 17 September.
At this grand evening of celebration, 44 Honourees or finalists across 12 award categories that made exceptional contributions to the industry were acknowledged. Out of the 44 finalists, 15 Recipients were announced in a star-studded ceremony witnessed by prominent industry leaders and influencers.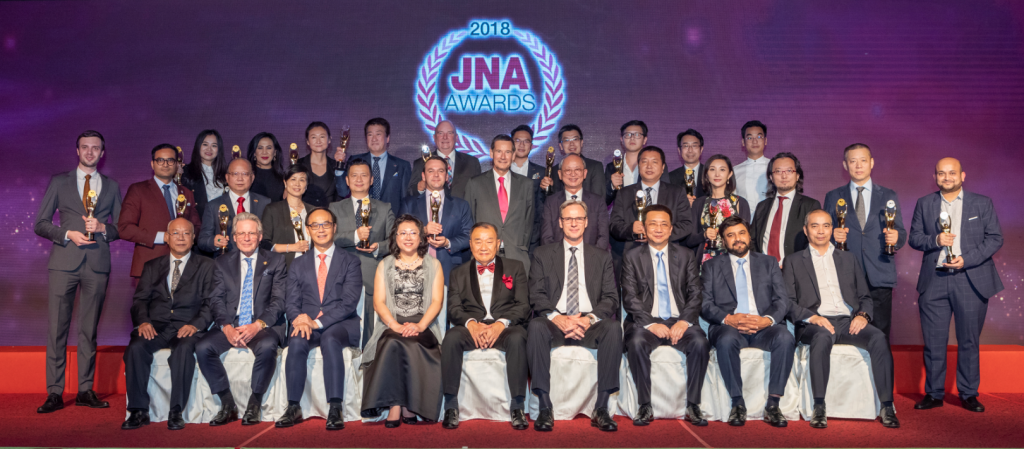 Organised by UBM Asia, the JNA Awards is dedicated to the promotion and enhancement of excellence, leadership, innovation and best business practices in the jewellery and gemstone community.
Prida Tiasuwan, Chairman of Pranda Jewelry Public Co Ltd – PRANDA Group, has been feted with the Lifetime Achievement Award, the highest accolade conferred by the JNA Awards. Prida is well-known for his tireless effort in bringing Thailand-made jewellery to the forefront of the global market. His bold vision and revolutionary ideas not only contributed to the success of PRANDA Group, but also benefited the jewellery industry as a whole.
The 15 Award Recipients across 12 categories are:
 1. Brand of the Year – Retail
      Luk Fook Holdings (International) Limited – Hong Kong
 2. eSupplier of the Year
      Kiran Gems Private Limited – India
 3. Industry Innovation of the Year
       3a. Industry Innovation of the Year – Business Model
              Shenzhen MOVER Jewellery Co Ltd – China
       3b. Industry Innovation of the Year – Diamond Testing Technology
              IIDGR (UK) Ltd – United Kingdom
       3c. Industry Innovation of the Year – Manufacturing Process
              PANDORA Production Co Ltd – Thailand
 4. Manufacturer of the Year – Cutting & Polishing
      Chow Tai Fook Jewellery Group Ltd – Hong Kong
 5. Manufacturer of the Year – Jewellery
      Kuwayama Corporation – Japan
 6. Outstanding Enterprise of the Year – ASEAN, Japan & Korea
      Poh Kong Jewellers – Malaysia
 7. Outstanding Enterprise of the Year – Greater China
      Shenzhen Sunfeel Jewelry Co Ltd – China
 8. Outstanding Enterprise of the Year – India
      KGK Diajewels Private Limited – India
 9. Retailer of the Year (500 outlets and below)
      PT Central Mega Kencana – Indonesia
 10. Retailer of the Year (501 outlets and above)
       HIERSUN – China
 11. Sustainability Initiative of the Year
        Jewelmer (KARAMAR CORPORATION) – Philippines
 12. Young Entrepreneur of the Year (Age 40 and below)
        XU Xiao, Zbird / Shanghai Wisdom Jewelry Trading Co Ltd – China
        Zulu GHEVRIYA, Prism Group – Hong Kong
Letitia Chow, Chairperson of the JNA Awards, Founder of JNA, and Director of Business Development – Jewellery Group at UBM Asia, said, "Our industry is facing some challenging times, but we should not be discouraged. Instead, this is the time to be innovative. This is the time to seek business opportunities with a different light and angle, and form alliances and collaborations to create win-win situations. Our Honouree companies and individuals embrace this mindset to drive their businesses forward. Once again, I would like to express my deep appreciation and sincere congratulations to all companies and individuals who took part in this year's Awards. Together, we can make this industry flourish."
Kent Wong, Managing Director of Chow Tai Fook Jewellery Group Ltd, remarked, "Having been a JNA Awards Headline Partner for seven consecutive years, we are thrilled to witness the continuous pursuit of breakthroughs and accomplishments by our peers. Through our concerted efforts, I believe we can drive the development of the jewellery industry and let it shine for generations to come."
Lin Qiang, President & Managing Director of the Shanghai Diamond Exchange (SDE), added, "The Honourees for Industry Innovation of the Year were extremely impressive this year and nicely represented the entrepreneurial spirit of the jewellery industry. All the companies are blazing trails in their respective sectors, but it is only through innovation that one can truly stand out. I love reading about success stories stemming from innovation – be it in the context of technology, business models and product development. What those inspiring stories tell us is that change can be a positive thing, and that taking risks can lead to tremendous growth."
Kenneth Scarratt, CEO of the Bahrain Institute for Pearls and Gemstones (DANAT), shared, "The JNA Awards in exemplifying excellence provides a vital avenue for talented professionals to show the world that the gem and jewellery industry is truly innovative, diverse and transparent. The Recipients this year, as in previous years, are great global trade ambassadors and we should all be grateful for their contributions and support in setting the standards to which we should all aspire."
In addition to Headline Partners Chow Tai Fook, SDE and DANAT, the JNA Awards is supported by Honoured Partners KGK Group, Guangdong Gems & Jade Exchange, and Guangdong Land Holdings Limited (GDLAND).