'The Jade Lady' Mimi Ou Yang Awarded with JNA's Lifetime Achievement
 Hong Kong, 18 August, 2015 – JNA (Jewellery News Asia) is proud to announce that Professor Mimi Ou Yang — affectionately referred to as "The Jade Lady" in the jadeite jade industry — will be honoured with the prestigious Lifetime Achievement Award at the fourth annual JNA Awards. Ou Yang is an internationally renowned gemmologist, mineralogist and jade expert who founded the Hong Kong Gems Laboratory and H.K. Institute of Gemmology.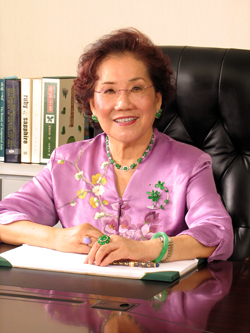 Letitia Chow, Chair of the JNA Awards Judging Panel, said: "It is our honour to recognise Professor Ou Yang for her lifetime achievements in the jadeite industry. With her inquisitive mind, dedication and hard work, she has made the jadeite trade more transparent, promoted high ethical standards among industry practitioners, inspired consumer confidence, and contributed to cementing the jadeite sector's status in the international market. Professor Ou Yang exemplifies the true values of what JNA Awards promotes."
Since 1978, Ou Yang has wholeheartedly devoted herself to the academic research of Fei Cui Jade. For years, she travelled to Myanmar's mining areas, collecting and studying jade samples. In 1983, Ou Yang was the first to discover a terrestrial source of Ureyite while doing her research on Burmese jadeite jade. This stood out as her proudest accomplishment in an exciting and fulfilling career. Her unprecedented discovery sent shockwaves through the field of mineralogy, which firmly established her academic standing as a mineralogist.
In addition to her contributions to academic research, Ou Yang played a significant role in the development of the jadeite jade market. In the early 1980s, the emergence of artificially treated and dyed jadeite jade led Ou Yang to pioneer the classification system of Fei Cui Jade treatment ("A type," "B type," "C type" and "B+C type") and introduce the earliest use of Infrared Spectroscopy for B Type jadeite jade identification. Moreover, she proposed a systematic approach — 4C2T1V principle — for quality evaluation of Fei Cui Jade, which is now commonly used by jewellery companies and auction houses.
Ou Yang has virtually dedicated her entire life spreading jade knowledge and promoting the status and recognition of Fei Cui Jade as a precious gemstone in the international market. Her accomplishments included defining and officialising the terminology "Fei Cui Jade," which significantly improved the understanding of Fei Cui Jade and the trade's reputation among consumers.
Ou Yang is also an educator who trained and nurtured countless numbers of jewellery talents through the development of a Fei Cui Jade programme and her publications.
"It is my deepest honour to be the recipient of JNA's Lifetime Achievement Award. The path to becoming a Fei Cui Jade scholar was not an easy one. I am thrilled to finally receive recognition from the industry following years of hard work and perseverance. This award, while giving me tremendous pleasure, also serves as an inspiration to all the other scholars to continually serve the industry with their professional knowledge and expertise," Ou Yang said.
The prestigious honour will be presented to Ou Yang at the JNA Awards 2015 Ceremony and Gala Dinner, which will be held on Sunday, 20 September, at the Regal Airport Hotel Hong Kong.
JNA Awards 2015 is led by Rio Tinto Diamonds and Chow Tai Fook as Headline Partners, with Diarough Group, Gübelin Group, Israel Diamond Institute Group of Companies, Shanghai Diamond Exchange, and Guangdong Land Holdings Limited as Honoured Partners.
For more information on the event, please visit www.JNAawards.com or contact:
JNA Awards Marketing
UBM Asia (Hong Kong) 
+852 2516-2184
[email protected]