Gubelin joins Rio Tinto Diamonds, Chow Tai Fook,
Israel Diamond Institute, Robert Wan Tahiti and Shanghai Diamond Exchange at JNA Awards 2013
HONG KONG, 17 January 2013 – Jewellery News Asia (JNA), main organiser of the JNA Awards, is proud to announce that Gubelin has signed up as an Honoured Partner for the JNA Awards 2013. Gubelin joins Headline Partners Rio Tinto Diamonds and Chow Tai Fook, and Honoured Partners the Israel Diamond Institute, Robert Wan Tahiti and the Shanghai Diamond Exchange in the second edition of the industry-wide event that will be held on 12 September 2013 during the September Hong Kong Jewellery & Gem Fair.
The JNA Awards recognises and honours excellence in the jewellery industry, with a focus on companies and individuals that have made significant contributions to the Asian gemstone and jewellery trade.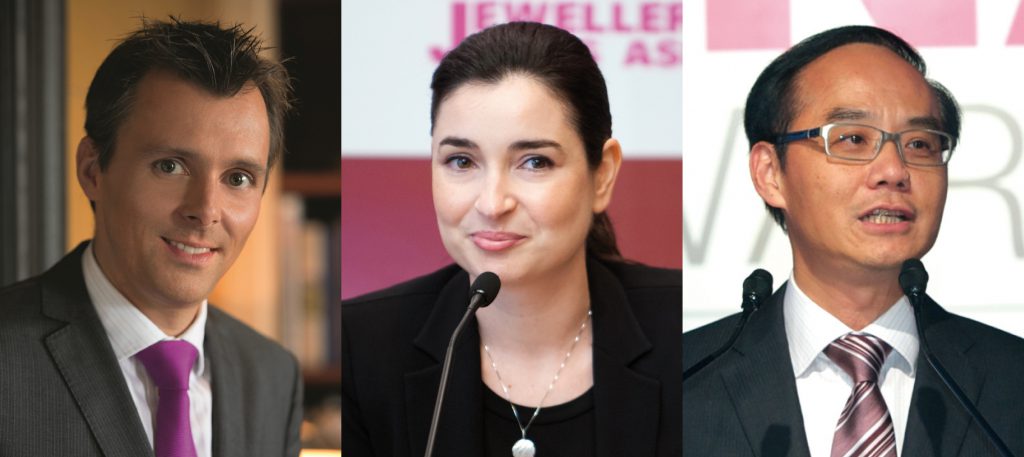 "We are proud to sponsor the prestigious JNA Awards since it promotes and builds awareness on the vital issues impacting the gemstone and jewellery industry. The Awards also reflects the values of Gubelin, a family-owned business that is famous for fine jewellery that merges Swiss goldsmith craftsmanship with precious gemstones, and the Gubelin gemmological laboratory, which is a global leader in coloured gemstone certification," said Raphael Gübelin, CEO of Gubelin Group, Switzerland.
Gubelin (
http://www.gubelin.com/
) has embraced the highest standards in jewellery and gemstones since 1854. With its wide range of gems and signature jewellery collections, the company has established a strong presence in Switzerland's premier locations, including Lucerne, Zurich, Basel, Bern, Lugano, St. Moritz and Geneva. It recently opened its first Asian boutique in Kuala Lumpur, Malaysia. The business, led by Raphael from the sixth generation of the founding family, is going strong and continues to nurture the company's traditional values of genuineness, purity, exclusivity, quality and authenticity. In addition to the jewellery retail stores and the Gubelin Ateliers, the group also operates the Gubelin Gem Lab, a world-renowned scientific gemstone laboratory with headquarters in Switzerland and an office in Hong Kong.
Letitia Chow, founder of JNA and Director of Business Development – Jewellery Group at UBM Asia, said: "We are pleased that the century-old and globally known brand, Gubelin, has joined us in this meaningful and instrumental platform that promotes and builds awareness on best practices and excellence in the jewellery industry. With the renewal of partnerships from last year, we are now ready to deliver the second edition of the Awards, which provides the industry with a benchmark for excellence."
"We are delighted that Gubelin is an Honoured Partner of the JNA Awards 2013. Their presence will only enrich the already exceptionally prestigious event and enhance its importance in the global jewellery and gemstone industry," added Rita Maltez, Manager Greater China Representative Office, Diamonds Sales and Marketing at Rio Tinto Diamonds.
"We would like to extend our warmest welcome to Gubelin as an Honoured Partner. Their joining hand with us further magnifies the significance of the JNA Awards.  We are looking forward to another successful JNA Awards, which has become a major event on the industry calendar," added Kent Wong, Managing Director of Chow Tai Fook Jewellery Group Limited.
The JNA Awards is once again supported by Honoured Partners comprising of strong institutions namely the Israel Diamond Institute, Shanghai Diamond Exchange and Robert Wan Tahiti (
http://www.robertwan.com/
). 
The inaugural event, JNA Awards 2012, was held at The Ritz-Carlton, Hong Kong, on September 21, gathering an audience of over 450 industry leaders and VIPs, including the most influential and inspiring decision-makers and stakeholders in the jewellery and gemstone trade.