HONG KONG, 2 March 2018 – The prestigious JNA Awards is now accepting entries for its seventh edition. Qualified companies and individuals are invited to take part in this annual awards programme.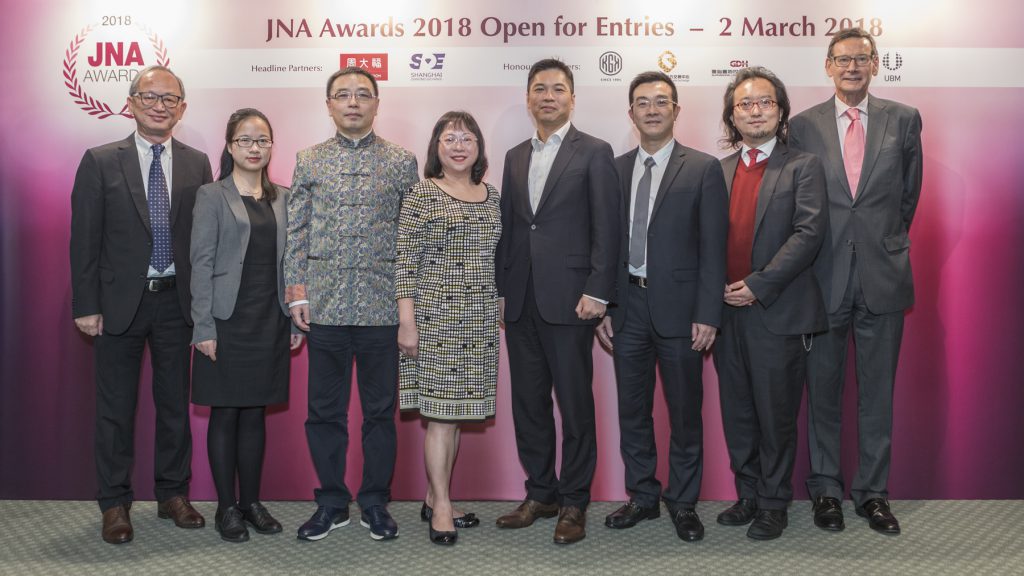 A world-renowned awards programme, the JNA Awards is organised by UBM Asia and is dedicated to recognise, celebrate and encourage best business practices, excellence and innovation in the international jewellery and gemstone industry.
Interested enterprises and individuals may self-nominate or nominate others in the following categories:
 1. Lifetime Achievement Award (nominated by the organiser)
 2. Brand of the Year – Retail
 3. eSupplier of the Year
 4. Industry Innovation of the Year (business model, management process, marketing or branding initiatives, manufacturing process, product development, technology and gemmological research, among others)
 5. Manufacturer of the Year – Jewellery
 6. Manufacturer of the Year – Cutting & Polishing
 7. Outstanding Enterprise of the Year – ASEAN, Japan & Korea
 8. Outstanding Enterprise of the Year – Greater China
 9. Outstanding Enterprise of the Year – India
 10. Retailer of the Year (500 outlets and below)
 11. Retailer of the Year (501 outlets and above)
 12. Sustainability Initiative of the Year
 13. Young Entrepreneur of the Year (age 40 and below)
Entries will be evaluated by an esteemed panel of judges comprised of six international industry experts, namely:
•

Albert Cheng, Advisor to the World Gold Council and former Managing Director, Far East (WGC)

•

James Courage, former Chief Executive of Platinum Guild International (PGI) and former Chairman of the Responsible Jewellery Council (RJC)

•

Lin Qiang, President and Managing Director of the Shanghai Diamond Exchange (SDE)

•

Mark Lee, Research Director of Asia Pacific Institute for Strategy

•

Nirupa Bhatt, Managing Director of the Gemological Institute of America (GIA) in India and the Middle East

•

Yasukazu Suwa, Chairman of Suwa & Son, Inc
Commenting on the awards, Albert Cheng remarked, "2017 was a difficult year for the jewellery industry, with rising costs, shrinking market size and increasingly sophisticated customers. Those who can survive and thrive are among our industry pillars, and they are encouraged to participate in the JNA Awards – the 'Oscars' of the jewellery industry. This provides them with the opportunity to share their success stories and be recognised at the most-awaited industry event in Hong Kong."
"Participation in the JNA Awards continues to be a unique opportunity for the jewellery industry to illustrate its progress and achievements across many business-focused categories. Catrgories where today's consumers are looking for – responsibility in the supply chain; individuals, collective enterprises, and innovation bring excitement and business relevance. It is also an attractive platform for members of the industry to demonstrate their unique qualifications to their peers, suppliers and buyers," James Courage added.
Letitia Chow, Chairperson of the JNA Awards, Founder of JNA, and Director of Business Development – Jewellery Group at UBM Asia, said, "Stepping into its seventh year, the JNA Awards constantly updates its programme according to industry trends to serve the trade better. We are privileged to provide a powerful platform for honourees and recipients to spread their success stories by actively showcasing and promoting the best practices and advancements in the industry. Through the JNA Awards, we hope to inspire a whole new generation of jewellery professionals who will drive the industry forward."
JNA Awards 2018 is supported by Headline Partners Chow Tai Fook (CTF) and the Shanghai Diamond Exchange (SDE), together with the KGK Group, Guangdong Gems & Jade Exchange and Guangdong Land Holdings Limited (GDLAND) serving as Honoured Partners.
Commenting on the awards, Kent Wong, Managing Director of Chow Tai Fook Jewellery Group, said, "As a Headline Partner of the JNA Awards for seven consecutive years since its inception in 2012, Chow Tai Fook is delighted to witness the JNA Awards serve as a premier and influential platform that has been championing best business practices in the jewellery industry. We are committed to supporting this awards programme and are excited to cooperate with our fellow partners who share the same mission. We look forward to another fruitful year for the JNA Awards."
Lin Qiang, President and Managing Director of SDE, noted, "As the most prestigious showcase of talents and successes in the global jewellery industry, the JNA Awards brings glory and honour to all its participants. I anticipate entries of the highest calibre again this year, and encourage SDE members to enter with my best wishes."
To enter the JNA Awards, interested parties must complete and submit their entry forms no later than midnight (Hong Kong time) of 30 April 2018.
The honourees or shortlisted entrants will be announced on 21 June 2018 at the June Hong Kong Jewellery & Gem Fair.