IIDGR, PANDORA Production join prestigious circle of Honourees
HONG KONG, 21 August 2018 – The seventh edition of the JNA Awards has received a record number of entrants for the Industry Innovation of the Year category, proving yet again the importance of ground-breaking work and creativity in the jewellery sector.
Organised by UBM Asia, the JNA Awards is one of the most prestigious awards programmes that promotes innovation, excellence and best business practices in the jewellery industry. It has established itself as an inspiring platform where business leaders and industry influencers can exchange ideas and share stories of success. The Award Recipients and Honourees will be feted at a gala celebration on Sunday, 16 September, at the InterContinental Hong Kong.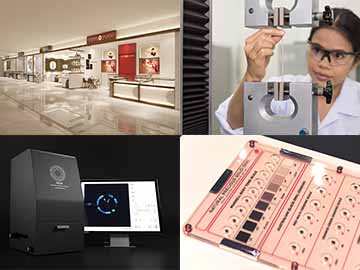 Competition was keener than ever in this category. Out of the 34 outstanding entrants, nine successfully made it to the Honourees list, namely, China Precious Gold Holdings Limited, Cody Opal Australia Pty Ltd, DRC TECHNO, IIDGR (UK) Ltd, ISMOND Jewelry Technology Co Ltd, PANDORA Production Co Ltd, Shenzhen HengFuYingJia Gold Co Ltd, Shenzhen Lingchengben Technology Corporation Limited, and Shenzhen MOVER Jewellery Co Ltd.
Letitia Chow, Chairperson of the JNA Awards, Founder of JNA, and Director of Business Development – Jewellery Group at UBM Asia, said, "The importance of innovation is vital for businesses to remain competitive and be the winning team in this ever-changing world. Innovation does not only apply to technology, but in every aspect of an operation, from business models, gemmological research, production and marketing initiatives to management processes, which have all been well-demonstrated by the Honourees. These companies are not satisfied with the status quo and have sought creative ways to respond and foresee the needs and challenges of the industry. "
The 2018 independent judging panel consists of industry experts, namely, Albert Cheng, Advisor to the World Gold Council (WGC) and former Managing Director, Far East (WGC); James Courage, former Chief Executive Officer of Platinum Guild International (PGI) and former Chairman of the Responsible Jewellery Council (RJC); Lin Qiang, President and Managing Director of the Shanghai Diamond Exchange (SDE); Mark Lee, Research Director of Asia Pacific Institute for Strategy (APIFS); Nirupa Bhatt, Managing Director of the Gemological Institute of America (GIA) in India and the Middle East; and Yasukazu Suwa, Chairman of Suwa & Son, Inc.
JNA Awards 2018 is supported by Headline Partners Chow Tai Fook (CTF), the Shanghai Diamond Exchange (SDE), and the Bahrain Institute for Pearls and Gemstones (DANAT) together with Honoured Partners KGK Group, Guangdong Gems & Jade Exchange, and Guangdong Land Holdings Limited (GDLAND).
Tickets for the prestigious Awards Ceremony and Gala Dinner are available for booking now at http://www.JNAAwards.com/ The JNA Awards is a ticketed event by application only.
Here is the full list of the individuals and companies that have been shortlisted as Honourees for JNA Awards 2018:
Brand of the Year – Retail
 • Jewelmer (KARAMAR CORPORATION)
 • Luk Fook Holdings (International) Limited
 • Phu Nhuan Jewelry Joint Stock Company
 • Shenzhen Darry Jewelry Co Ltd
 • Shenzhen Perfect Love Diamond Co Ltd
 • Shenzhen Sunfeel Jewelry Co Ltd
eSupplier of the Year
 • Kiran Gems Private Limited
 • Zbird / Shanghai Wisdom Jewelry Trading Co Ltd
 • Zhuge-to-store, Fubillion
Industry Innovation of the Year
 • China Precious Gold Holdings Limited
 • Cody Opal Australia Pty Ltd
 • DRC TECHNO
 • IIDGR (UK) Ltd
 • ISMOND Jewelry Technology Co Ltd
 • PANDORA Production Co Ltd
 • Shenzhen HengFuYingJia Gold Co Ltd
 • Shenzhen Lingchengben Technology Corporation Limited
 • Shenzhen MOVER Jewellery Co Ltd
 
Manufacturer of the Year – Cutting & Polishing
 • Chow Tai Fook Jewellery Group Ltd
 • KGK Diamonds (HK) Limited
Manufacturer of the Year – Jewellery
 • Kuwayama Corporation
 • MKS Jewelry International Co Ltd
 • Shenzhen Kingli Jewellery Co Ltd
Outstanding Enterprise of the Year – ASEAN, Japan & Korea
 • Crossfor Co Ltd
 • ESTINA
 • Poh Kong Jewellers
Outstanding Enterprise of the Year – Greater China
 • Luk Fook Holdings (International) Limited
 • Shenzhen MingFeng Jewellery Co Ltd
 • Shenzhen Sunfeel Jewelry Co Ltd
Outstanding Enterprise of the Year – India
 • K. Jewels Private Limited
 • KGK Diajewels Private Limited
 • RMC GEMS INDIA LIMITED
Retailer of the Year (500 outlets and below)
 • Phu Nhuan Jewelry Joint Stock Company
 • Poh Kong Jewellers
 • PT Central Mega Kencana
 • Shenzhen Darry Jewelry Co Ltd
 
Retailer of the Year (501 outlets and above)
 • HIERSUN
 • Mokingran Jewelry Group Co Ltd
 • Shenzhen Ideal Jewellery Co Ltd
 
Sustainability Initiative of the Year
 • Jewelmer (KARAMAR CORPORATION)
 • KGK Diamonds (HK) Limited
 
Young Entrepreneur of the Year (Age 40 and below)
 • XU Xiao, Zbird / Shanghai Wisdom Jewelry Trading Co Ltd
 • YANG Lian Guang, Beijing Ying Yan Network Technology Co Ltd
 • Zulu GHEVRIYA, Prism Group