JNA Awards announces categories for 2015
Now accepting entries until 30 April 
HONG KONG, March 06, 2015 – JNA Awards, the annual industry-wide event that honours innovators, leaders and outstanding enterprises of the international jewellery and gemstone industry with a focus on their contributions in Asia, has 16 award categories for 2015.
Organised by JNA (Jewellery News Asia), JNA Awards 2015 is led by Rio Tinto Diamonds and Chow Tai Fook as Headline Partners, with Diarough Group, Israel Diamond Institute Group of Companies (IDI), Shanghai Diamond Exchange, and Guangdong Land Holdings Limited (GDLAND) as Honoured Partners.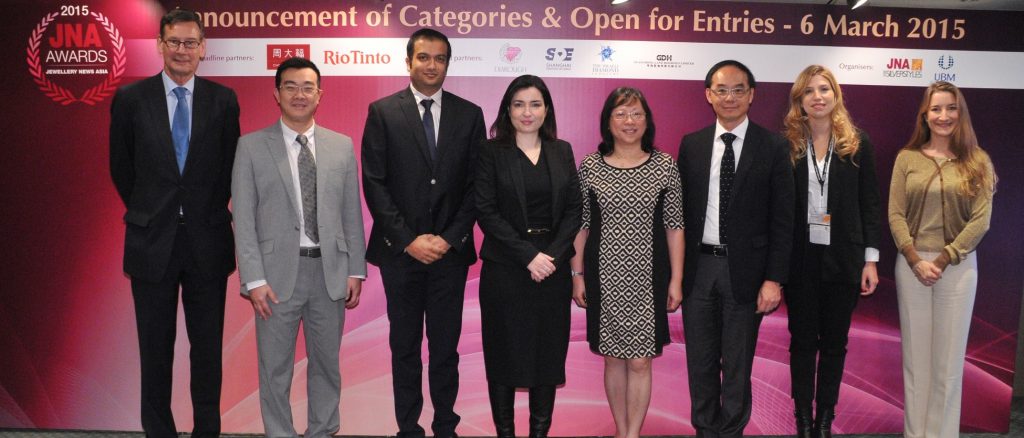 Although the number of categories is kept the same as last year, the JNA Awards has made adjustments to encourage more companies and individuals of high standards to participate in this prestigious and well-recognised awards programme.
The list of categories for 2015 is as follows:
          1.  Lifetime Achievement Award
          2.  3 Decades of Excellence
          3.  Brand of the Year – Retail
          4.  Employer of the Year
          5.  Industry Innovation of the Year
          6.  Manufacturer of the Year – Coloured Gemstone Cutting & Polishing
          7.  Manufacturer of the Year – Diamond Cutting & Polishing
          8.  Manufacturer of the Year – Gem-Set Jewellery
          9.  Manufacturer of the Year – Precious Metals-Only Jewellery
          10. Outstanding Enterprise of the Year – ASEAN Countries
          11. Outstanding Enterprise of the Year – India
          12. Outstanding Enterprise of the Year – Mainland China
          13. Retailer of the Year (450 outlets and below)
          14. E-tailer of the Year
          15. Sustainability Initiative of the Year
          16. Young Entrepreneur of the Year (Age 40 and below)
Individuals or companies may submit their entries or may be nominated by others by completing the online application form available at the Awards' website: www.JNAawards.com. Deadline for submissions will be midnight (Hong Kong time) of 30 April, 2015.
A highly respected international panel will judge the entries starting from May to mid-June. The Honourees or shortlisted candidates will be announced on 25 June and will be feted together with the Recipients at the JNA Awards Ceremony and Gala Dinner on Sunday, 20 September, during the September Hong Kong Jewellery & Gem Fair 2015.
Letitia Chow, Founder of JNA and Director of Business Development – Jewellery Group at UBM Asia, said, "Entering the fourth year of the JNA Awards, we have broadened the categories to encourage the participation of a wider jewellery community.  Specifically, we have expanded the scope in Innovation of the Year Award to include other business disciplines beyond the manufacturing sector.  We welcome companies that are innovative in areas, including but not limited to, technologies, business models, product developments, marketing initiatives and gemmological research to enter the Awards.  
"We have also reintroduced the 3 Decades of Excellence Award to honour companies with outstanding achievements and a long-term commitment to developing the industry."
Wolfram Diener, Senior Vice President of UBM Asia, added, "Since its inception, the JNA Awards has gained strong support from our Partners and industry leaders, driving it to become one of the most highly regarded events in the jewellery and gemstone trade. We look forward to attracting more participants and well-qualified companies to this annual awards programme."
Rita Maltez, Director of Rio Tinto Diamonds for Greater China, said "Rio Tinto is proud to continue as a Headline Partner of the JNA Awards. Our sponsorship is part of our commitment to the growth of the diamond industry, particularly in the fast-growing market of Greater China. Developing win-win partnerships at all stages of the value chain is integral to the way we work, and having been present in this market for five years now, it has been very gratifying for Rio Tinto Diamonds to see the wonderful results from these collaborations."
Kent Wong, Managing Director of Chow Tai Fook Jewellery Group, said, "We, as a Headline Partner of the JNA Awards since its launch in 2012, are thrilled to see its continuous success and growing prominence as an industry-wide platform that recognises achievement and excellence, and one that inspires innovation and improvement, and facilitates sharing and learning. Together, with your full support and enthusiastic participation, we expect to see another year of resounding success with many new records and exciting moments at the fourth edition of the Awards in September."
For more information on the event, please visit www.JNAawards.com or contact:
JNA Awards Marketing
UBM Asia (Hong Kong) 
+852 2516-1683
[email protected]