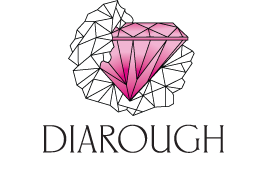 Diarough Group was established in Antwerp in 1975 and owns diamond polishing factories in China, India, Thailand and Botswana, with a network of sales offices around the world. Diarough is known among the most professional and respected names in the international diamond industry.
Diarough believes in building and nurturing long-term business relationships based on mutual trust, finding solutions to business and marketing problems, creating marketable opportunities through innovative products and providing excellent client services.
Its jewellery manufacturing unit Uni-Design has produced many award-winning jewellery pieces, which have been proudly worn by celebrities on the red carpet over the years.
The Group employs over 3,500 people and is engaged in a wide range of diamond business activities like rough trading, cutting, polishing, jewellery manufacturing and marketing to retailers, chain stores, global brands and private labels worldwide. Diarough employs advanced technology and modern work speed with traditional ethical business practices upon which the Company was founded.
"It gives us immense pleasure to announce the extension of our partnership with the JNA Awards for the third year. This demonstrates our continued commitment to promote excellence and recognise well-deserved achievers and major contributors in the industry."
– Naresh Surana
Director
Diarough Hong Kong