Rio Tinto, Chow Tai Fook continue as Headline Partners for JNA Awards 2014
HONG KONG, 16 September, 2013 – JNA (Jewellery News Asia) announced that Rio Tinto Diamonds and Chow Tai Fook Jewellery Group Ltd will continue to be Headline Partners for the third straight year of the JNA Awards. This was disclosed at a signing ceremony held on September 12, 2013 at the Grand Hyatt Hotel, Hong Kong.
Also returning as Honoured Partners are Israel Diamond Institute, KARP Group and Shanghai Diamond Exchange. The JNA Awards 2014 will be held on September 16, 2014 in conjunction with the September Hong Kong Jewellery & Gem Fair, the world's biggest B2B marketplace for the gem and jewellery sectors.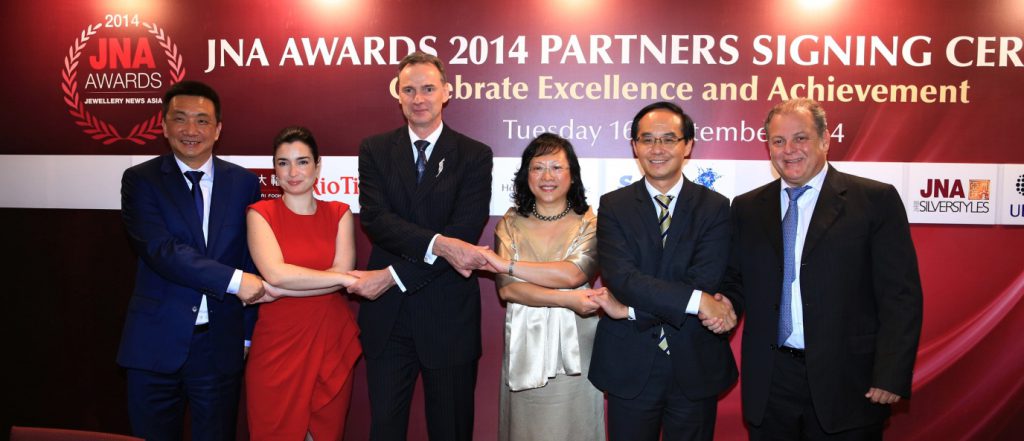 Letitia Chow, founder of JNA and Director of Business Development – Jewellery Group at UBM Asia said, "We are tremendously grateful for the unwavering support of both our Headline and Honoured Partners. These partnerships reflect their commitment in helping us pursue excellence, innovation and success in the gemstone and jewellery industry."
"The support shown to us by these industry leaders is nothing short of remarkable. Their resounding endorsement drives us to continue to elevate the jewellery trade and honour those who have contributed immensely towards advancement of the industry," added Wolfram Diener, UBM Asia Senior Vice President.
Jean-Marc Lieberharr, Managing Director at Rio Tinto Diamonds, said, "Rio Tinto is proud to announce its continuing support of the JNA Awards in 2014. Our shared vision is to encourage innovation as a driver of growth for our industry, and we are delighted to work with the dedicated professionals behind the JNA Awards to realise this vision. We look forward to a long and successful association with the JNA Awards,"
Kent Wong, Managing Director at Chow Tai Fook Jewellery Group said, "It is our honour to be the Headline Partner of the JNA Awards for three consecutive years since its inception in 2012. We are very pleased to join hands with other partners to render utmost support to this iconic event of the jewellery industry. We believe that through recognition of excellence, leadership and innovation, we can further drive the growth and development of the industry."
The JNA Awards seeks to honour the innovators and leaders of the jewellery trade. It celebrates the successes and achievements in manufacturing, branding, retailing, best business practice, innovation, sustainability and outstanding contribution.
The recipients for the 16 categories of the second annual JNA Awards were also revealed on September 12 at a ceremony and gala dinner attended by over 500 industry luminaries at the Grand Hyatt Hotel.
For more information regarding the JNA Awards, log-on to www.jnaawards.com.