Hong Kong, 27 October, 2016 –Rio Tinto Diamonds and Chow Tai Fook Jewellery Group continue to lead the JNA Awards for the sixth consecutive year as Headline Partners of the highly anticipated event in the jewellery and gemstone industry. The partner renewal signing ceremony took place during the Awards gala dinner on 14 September attended by more than 500 industry luminaries in Hong Kong.
Also returning as Honoured Partners are Shanghai Diamond Exchange (SDE), Guangdong Gems & Jade Exchange, and Guangdong Land Holdings Limited (GDLand). The JNA Awards recognises and honours companies and individuals that have demonstrated excellence, leadership and innovation, with a special focus on Asia, and whose ideas and actions have made a positive impact on their businesses and communities.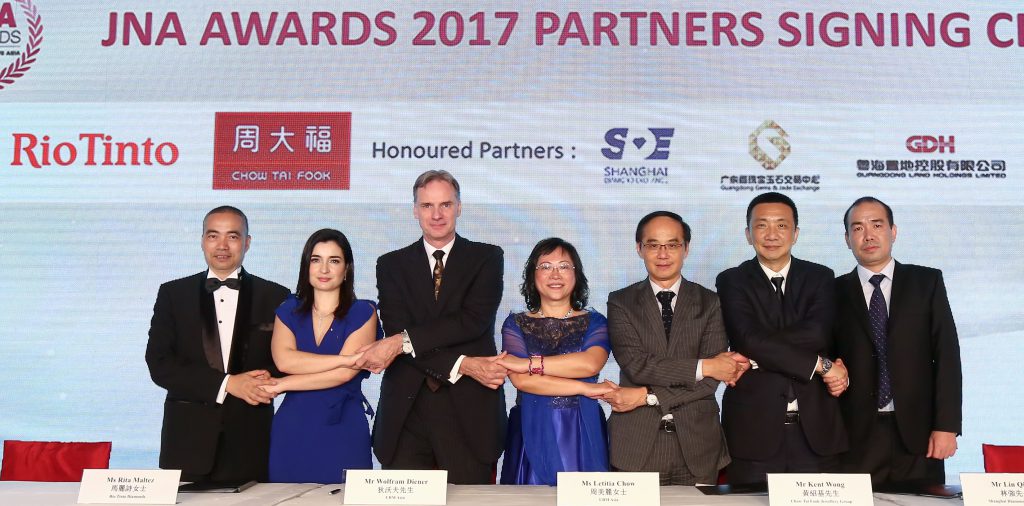 "The support shown to us by these industry leaders is nothing short of remarkable. Their resounding commitment and support drives us to continue to elevate the jewellery trade and to bring this event to where it is today," commented Wolfram Diener, Senior Vice President of UBM Asia.
Letitia Chow, Founder of JNA, Director of Business Development – Jewellery Group at UBM Asia, and Chair of the JNA Awards judging panel, said, "We have been very privileged to be able to work closely with our Partners who share our vision and core values, and help make this a highly regarded and meaningful event for the trade. It is also extremely encouraging to see the continuous support from both our Headline and Honoured Partners, especially Rio Tinto Diamonds, Chow Tai Fook Jewellery Group, and Shanghai Diamond Exchange,  who have joined us in this journey since the very beginning."
Rita Maltez, Director of Rio Tinto Diamonds Greater China Representative Office, added, "Rio Tinto is very proud to have been a founding Headline Partner to support the Awards. We are delighted to see how, over the past five years, the JNA Awards has blossomed into an important platform that brings value to the gem and jewellery industry. We look forward to continuing our partnership with the JNA Awards and investing together to grow our industry."
Kent Wong, Managing Director of Chow Tai Fook Jewellery Group, remarked, "The annual JNA Awards encourages innovation and best practices, which makes on-going advancement to the industry amid a fast-changing environment. Chow Tai Fook is thrilled to be a committed Headline Partner of this highly acclaimed event for the sixth year in a row. Coupling with the collaboration among our fellow partners, we will continue to foster a sustainable development for the jewellery industry."
"SDE is extremely proud to partner with the JNA Awards since its inception in 2012. Through the Awards, we believe that the jewellery industry can identify those who have been able to adopt best business practices and excel in a highly competitive environment to set examples for others in the industry to follow," shared Lin Qiang, President and Managing Director of SDE.
"GDLand is honoured to be an Honoured Partner of the JNA Awards for the fourth consecutive year. We strive to further our cooperation with the Awards and other partners in advancing the growth of the jewellery industry," said Li Yonggang, Executive Vice President of GDLAND.
Jim Li, General Manager of Guangdong Gems & Jade Exchange, noted, "It is our great pleasure to join hands with other partners of the JNA Awards and together, we aim to create a prosperous future for the jewellery industry."
The JNA Awards 2016 Ceremony and Gala Dinner ended on a high note on 14 September with 15 Recipients honoured in 11 categories. Please click here for the full list of Recipients.