Rio Tinto, Chow Tai Fook, IDI and SDE Partner with JNA Awards 2012
HONG KONG, Feb. 20, 2012 —
Jewellery News Asia
(
www.jewellerynewsasia.com
) announced the launch of an industry-wide event for the jewellery trade, the JNA Awards ceremony and gala dinner, to be held on September 20, 2012, during the September Hong Kong Jewellery & Gem Fair. The event, the first of its kind in Asia, will be held at The Ritz-Carlton, Hong Kong, and is organised by
Jewellery News Asia
of UBM Asia in collaboration with UBM Awards.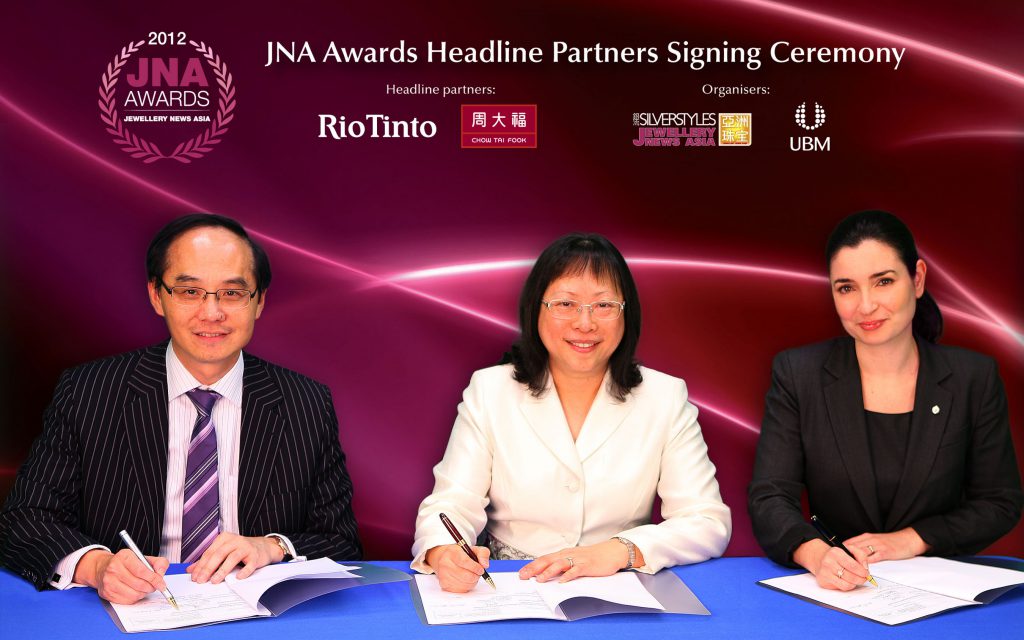 Recognising the importance and prestige of the event, Rio Tinto and Chow Tai Fook lead the awards event as Headline Partners, and the Israel Diamond Institute (IDI) and Shanghai Diamond Exchange (SDE) join as Honoured Partners. "With such strong support from leaders of the trade, JNA Awards is well-positioned to gather industry players in a red-carpet setting to honour and celebrate individuals and organisations that excel in best business practices or contribute to the success and advancement of the jewellery and gemstone industry in Asia," said Jime Essink, President and CEO of UBM Asia.
Rio Tinto is one of the world's leading diamond producers with mines in Australia (Argyle), Canada (Diavik), Zimbabwe (Murowa), and an advanced diamond project in India. Rio Tinto's diamonds are sold through its sales and marketing headquarters in Antwerp, Belgium, with representative offices in Mumbai, Hong Kong and New York. It also operates a niche cutting and polishing facility for the rare pink diamonds from its Argyle mine.
"Rio Tinto Diamonds is proud to sponsor the inaugural JNA Awards ceremony. This is an important event that will showcase the very best of the Asian jewellery market," said Jean-Marc Lieberherr, General Manager, Sales and Marketing, Rio Tinto Diamonds.
Chow Tai Fook Jewellery Group Limited is a leading jeweller in mainland China, Hong Kong and Macau. Its principal products are mass luxury and high-end luxury jewellery products including gem-set jewellery, platinum/karat gold products, gold products and watches. It has an extensive retail network, with over 1,500 jewellery and watch points of sale in Greater China, Malaysia and Singapore. Chow Tai Fook has an effective vertically integrated business model that gives it a centralised control over its processes from raw material procurement to design, production, marketing and sales through its extensive retail network.
Kent Wong, Managing Director of Chow Tai Fook Jewellery Group Limited, added, "This is the Oscars of the jewellery industry and we are proud that the event is being held in Hong Kong, where we are based. We want to support the event because it sends the right message to the industry that we value excellence and quality."
The Israel Diamond Institute (IDI) – Group of Companies, the umbrella organisation of the Israeli Diamond Industry, is a non-profit, public interest group tasked with several essential functions. These include marketing and public relations, technological R&D, promotion of rough sources, professional training, publishing professional literature and security consultancy. IDI is responsible for industry participation in major trade fairs around the world, organising Israeli Diamond Pavilions, receptions, press conferences and other events at these fairs.
"At IDI, we are committed to high standards and Asia is a very important market to us. This event carries both elements and we are happy to be a partner of such a prestigious event in the jewellery industry," said Nissim Palomo, Chief Marketing Officer at IDI.
Shanghai Diamond Exchange (SDE) is a national market authorized by the State Council of the People's Republic of China and the only transaction platform for the import and export of diamond in mainland China. It is a member of the World Federation of Diamond Bourses.
"We are honoured to be part of the inaugural JNA Awards ceremony. This is an exciting event that the industry has been waiting for and will surely help push the industry to even higher standards," said Lin Qiang, President of SDE.
"The JNA Awards marks an important milestone in the history of Jewellery News Asia and UBM Asia. We will be celebrating the 30th anniversary of both the publication and the September Hong Kong Jewellery & Gem Fair in 2012. This event will be an exceptionally splendid gala in the jewellery industry and we are looking forward to it," commented Letitia Chow, Founder of Jewellery News Asia and Director of Business Development — Jewellery Group at UBM Asia.
JNA Awards Categories include:
–   Manufacturer of the Year
–   Retailer of the Year
–   Employer of the Year
–   Brand of the Year
–   Industry Innovation of the Year — Manufacturing
–   Industry Innovation of the Year — Retail
–   Sustainability Initiative of the Year
–   Young Leader of the Year (Age 30 or below)
–   3 Decades of Excellence Award
–   Outstanding Contribution to the Industry of the Year
–   Lifetime Achievement Award
–   Wonder of the World Award
Jewellery News Asia, first published in 1983, is the flagship magazine of UBM Asia's (www.ubmasia.com) Jewellery Group. The publication is a leader in providing the latest industry updates and in-depth reports, covering the international jewellery trade with an Asia insight. Following its success, the publication launched its online edition, www.jewellerynewsasia.com in June 2011.