Shenzhen jewellery powerhouses lead in innovation and sustainability
at JNA Awards 2016
Hong Kong, 6 October, 2016 – The category that drew the most attention at the JNA Awards 2016 Ceremony and Gala Dinner was the Industry Innovation/Sustainability Initiative of the Year Award, where four companies, all from Shenzhen, took home the coveted gold trophy.
"The judging panel holds the view that more than one recipient deserves the award since they have demonstrated qualities and achievements in areas that are different and unique from each other," said Albert Cheng, a senior member of the JNA Awards judging panel and an advisor to the World Gold Council.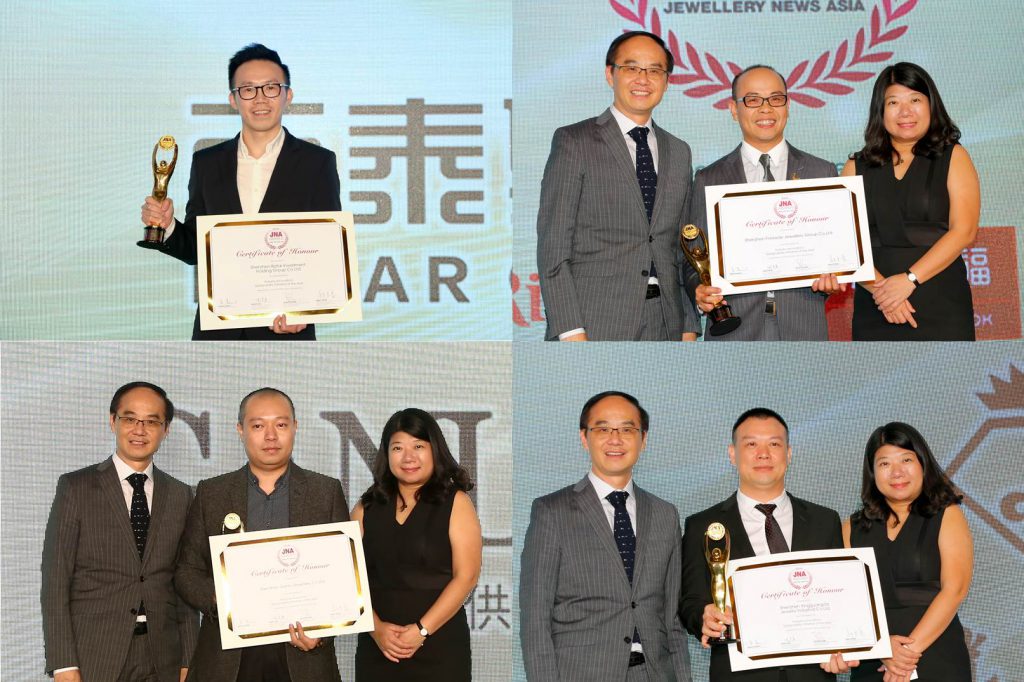 The 2016 Recipients in the Industry Innovation/Sustainability Initiative of the Year category are:
• Shenzhen Batar Investment Holding Group Co Ltd
• Shenzhen Foreway Jewellery Group Co Ltd
• Shenzhen Ganlu Jewellery Co Ltd
• Shenzhen Xingguangda Jewelry Industrial Co Ltd
Letitia Chow, Founder of JNA and Director of Business Development – Jewellery Group at UBM Asia, remarked, "These companies have visionary leaders who are passionate about and are strong believers in the importance of continuous innovation. Irrespective of economic and market conditions, they take a long-term view of their investments in technologies, and research and development since they believe that only through innovation and investing in the future can they sustain and compete in today's economic environment."


"The Luohu government has been committed to promoting the development of the jewellery industry, and we are extremely inspired and proud to learn that four leading Shenzhen jewellery companies are recipients of the Industry Innovation / Sustainability Initiative of the Year Award. In addition, we would like to commend these companies for continuously innovating and achieving sustainable development in spite of challenging market conditions," a representative of the Shenzhen Luohu People's Government commented.


James Courage, another member of the judging panel and former Chief Executive of Platinum Guild International and former Chairman of the Responsible Jewellery Council, added, "The jewellery manufacturers of Shenzhen have long been pioneers in innovation, with a growing need to balance the rising consumer expectations on quality and design with cost and competition, which leads to greater investment into the development and adaptation of technologies to jewellery applications."


The JNA Awards recognises and honours companies and individuals whose passion for excellence, innovation and outstanding business performance has helped shape the growth and development of Asia's jewellery industry. The Awards' fifth edition was led by Chow Tai Fook, Gemfields and Rio Tinto Diamonds as Headline Partners; and Diarough Group, the Israel Diamond Institute Group of Companies, Shanghai Diamond Exchange, Guangdong Gems & Jade Exchange, and Guangdong Land Holdings Limited as Honoured Partners.


The JNA Awards 2016 Ceremony and Gala Dinner ended on a high note on 14 September with 15 Recipients honoured in 11 categories.


JNA Awards Marketing
UBM Asia (Hong Kong)
+852 2516-2184
[email protected]